This week saw the Sydney Summer Series orienteering venture to Western and Hills Orienteers' Vineyard Creek map in Telopea.
The prelude to the event suggested fun was in store:
THIS SUBLIME AND PEACEFUL POSER ALWAYS ATTRACTS.
From a scatter across the upper 'home' reaches, runners descend to the wonders of Vineyard Creek and beautiful creekside bush track running. As the controls draw you on and on, down and down, the clock ticks. One of Sydney's hidden orienteering gems.
Race Review
This week I thought I'd play with a new way of presenting the final run using map tiles generated by QGIS. Here's the final result – it took about 5 minutes to create the tiles and publish to my webserver.
Source: https://omaps.burnett.com.au/vineyard-creek/
I started off pretty fast in the footsteps of Bennelong runner Brian Brown. Brian was running fast, but making little mistakes in and around control circles allowing me to catch up. He said on Strava he had his best result yet, so I hope I helped him with that.
Sore Achilles and lack of fitness made the last two kilometres very difficult. They were mostly uphill and the time limit was coming up very quickly.
The segment from control number 2 to the finish was my fastest pace as I watched my watch tick closer to the minute 48. 47:40, 47:50 seconds, and still not there. I dabbed my SportIdent in and the record shows 48:01 – damn. 2 seconds over the minute earned me 10 penalty points on top of the other 20 points already deducted.
I finished with 500 points – two seconds faster and I would have moved from 28th to 24th. Top 20 by the end of the season?
Navigation Errors
Not too many this week!
It had been my intention to go from #9 to #16 if I was to make it back in time. Next thing I knew I'm standing next to a pipeline near #25 realising I was meant to go to #16.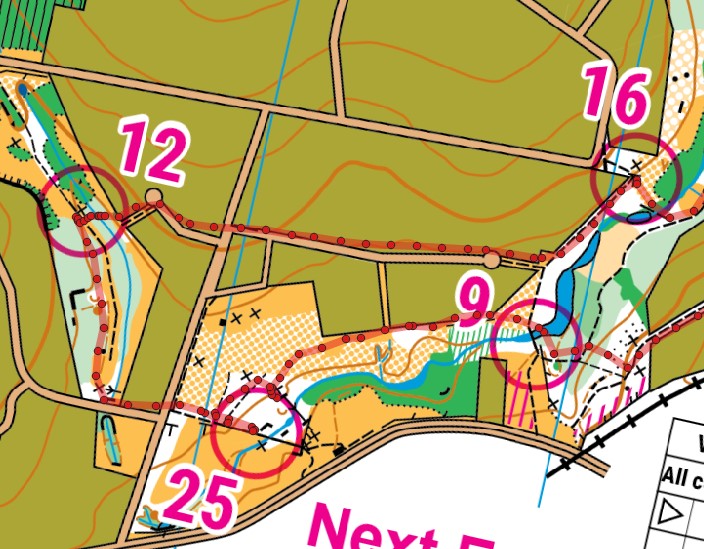 Oh well, I'm at #25 now so better keep going. I lost 1 minute on the edge of the circle of #25 with a pipeline that also looked like a bridge. Decisions were made to go to #12 and grab those 20 points and hope the extra time was not wasted.
Result
According to https://sydneysummerseries.com.au/season/202021/event/7/results/order I earned a place of 28 out of 200. My best score (500) of the season so far, but still off the pace of Richard, Glenn and the young guns.
Strava