Round 6 of the Sydney Summer Series orienteering moved to Forestville near the Northern Beaches Hospital.
The venue may be familiar to competitors of the Great NOSH Footrace that passes through the area each year. It's been years since I did that race, but I do remember the hard slog up the rock faces to get to Bantry Bay Road.
3D Animation
[youtube_advanced url="https://youtu.be/XzJVel4pRV0″ width="600″ height="400″ responsive="yes" controls="yes" autohide="no" autoplay="yes" mute="no" loop="yes" rel="no" fs="yes" modestbranding="yes" theme="dark" playsinline="no" title="Orienteering Sydney Summer Series Event #6, Forestville"]
A humid afternoon greeted competitors in this Forestville event, starting at the home of Ferretville Rugby League Club. Great name for a sporting club!
The drive into the venue rang alarm bells – the road was very steep and there were many runners struggling to get up the hill to control #24. Time to check the contour interval – 5m on a 1:7500 map. All the planning was out the door as potential routes had to be checked for elevation!
Navigation Errors
Control 10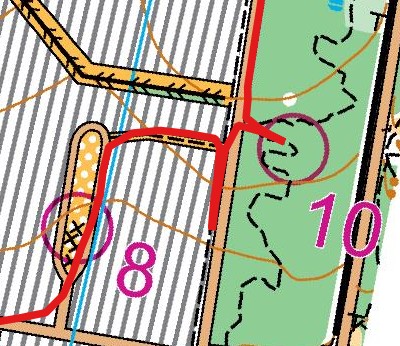 Coming out of the bush I missed the narrow pathway that went to control 8. A quick u-turn ensued and 46 seconds lost.
Control 13
I had promised myself before starting that I would only attempt the cluster of 24/13/3 at the end of the course if time permitted.
Temptation got the better of me and I thought I'd drop down to get #13 on the way to #20 from #8. Here's the cartography at that area, with the route I took.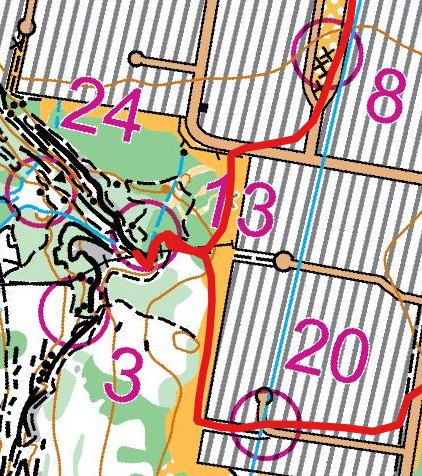 There is a lot going on in the circle for #13. There is a track that goes into the circle, then out, and around before re-entering the circle. There's a large rockface, and a powerline too. Plus a boulder. In amongst the jungle was a water course but without the control descriptions on board I didn't realise the clue was the track bend.
The result: a lot of fussing around trying to interpret the cartography before giving up and going back to plan A. A loss of exactly 2 minutes with no points earned. In review, I had to bash through the green to get the 20 points.
Control 30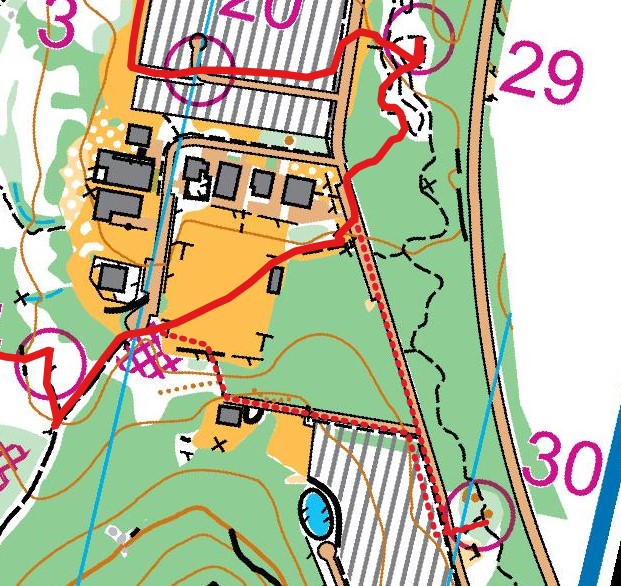 Getting back onto Bantry Bay Road after a slog through dense vegetation meant decision time. Did I have time with 35:00 on the clock to get #30 as planned? I wasn't feeling fresh so I elected to dump the 30 points on offer. Unfortunately, after finishing it worked out I had a minute or two to spare and could have got the 30 points on offer.
Results
According to the results at Eventor, I managed 27th out of a field of 204. A little annoying when #13 and #30 would have promoted the place to 10th.
There's always next week – Orienteering Summer Series #7 at Telopea
Full Map
Map is copyright Bennelong Northside Orienteers
Ferretville Orienteering Map

Strava